SPECTRA VENUE MANAGEMENT AND IHEARTMEDIA SPRINGFIELD TO AWARD ONE LUCKY FAN WITH TICKETS TO EVERY EVENT AT THE MULLINS CENTER FOR A YEAR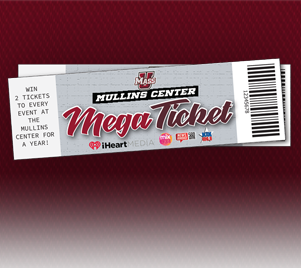 Spectra Venue Management today launched "Mullins Center MEGA Ticket" Sweepstakes presented by iHeartMedia Springfield, a month long promotion that will award one lucky fan with two tickets and free parking to every public event at the Mullins Center between July 1, 2018 and June 30, 2019.
Fans can enter the Mullins Center MEGA Ticket Sweepstakes presented by IHeartMedia Springfield at "www.mullinscenter.com/events-tickets/megaticket" beginning Thursday, May 3 at 10am." All entries will be collected until midnight on Monday, June 18. The winner will be drawn and announced in mid-June. The Mullins Center Facebook, Twitter, and Instagram account will provide updates and information throughout the promotion.
"We are proud to partner with IHeartMedia Springfield, an iconic and locally-based company, on the launch of our 2018 MEGA Ticket Sweepstakes." Spectra Venue Management's Brian Caputo, General Manager of the Mullins Center said. "We're excited to offer a unique opportunity for our fans and to continue creating memorable experiences within sports, music, and entertainment for the upcoming year."
Alan Pandiani, Associate AD of Sales & Fan Experience for UMass Athletics adds, "UMass Athletics has taken numerous steps to enhance fan experiences and in venue engagement for fans who visit The Mullins Center during the '18-'19 competition year. We take immense pride in representing not only The Commonwealth, but the people of Western Massachusetts, and it's only fitting that we contribute to this phenomenal promotion."
The winner of "Mullins Center MEGA Ticket" Sweepstakes will receive two tickets to the following events:
UMass Men's Basketball
UMass Women's Basketball
UMass Men's Ice Hockey
All public concerts and events to be announced
All Public Skate events at the Mullins Center Community Ice Rink
The lucky winner will also receive one parking pass, good for free parking at all events
For additional rules regarding this offer, please visit: www.mullinscenter.com/events-tickets/megaticket
About iHeartMedia
With over a quarter of a billion monthly listeners in the U.S and over 80 million social followers, iHeartMedia has the largest reach of any radio or television outlet in America. It serves over 150 markets through 858 owned radio stations, and the company's radio stations and content can be heard on AM/FM, HD digital radio, satellite radio, on the Internet at iHeartRadio.com and on the company's radio station websites, on the iHeartRadio mobile app, in enhanced auto dashes, on tablets and smartphones, and on gaming consoles. iHeartRadio, iHeartMedia's digital radio platform, is the No. 1 all-in-one digital audio service with over 800 million downloads; it reached its first 20 million registered users faster than any digital service in Internet history and reached 70 million users faster than any other radio or digital music service and even faster than Facebook. The company's operations include radio broadcasting, online, mobile, digital and social media, live concerts and events, syndication, music research services and independent media representation. iHeartMedia is a division of iHeartMedia, Inc. (OTCBB: IHRT). Visit iHeartMedia.com for more company information.
About Spectra
Spectra is an industry leader in hosting and entertainment, partnering with clients to create memorable experiences for millions of visitors every year. Spectra's unmatched blend of integrated services delivers incremental value for clients through several primary areas of expertise: Venue Management, Food Services & Hospitality, and Partnerships. Learn more at SpectraExperiences.com.